WELCOME ON THE VICTORIA GARDEN WEBSITE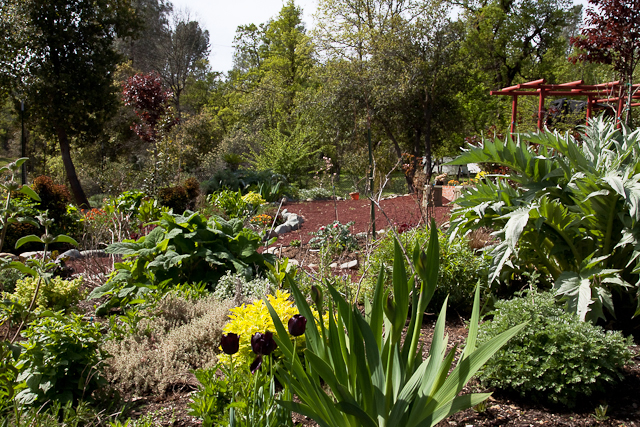 Victoria Garden, April 2010.
SLIDE SHOW WITH ALL PHOTOS OF VICTORIA GARDEN

New: Slide shows of the following gardens : Julie's spring Daffodil garden

Victoria Garden is a private garden located it the lower part of the foothills, just West of Redding, CA. In 2006 we moved to the U.S.A. and bought our house in Redding. Being Dutch and having lived in England I was a bit home sick and longed to have a colorful "English" garden fully packed with plants.  The famous English garden tradition has its roots in the period of Queen Victoria and it inspired me to create 'Victoria Garden' with all its different colors, textures and heights.
I wanted a lush garden, but choose plants that do well in this climate. Still the garden needs some water to cope with the long hot summers. To be water wise, I installed a drip and mini spray irrigation system. This watering system needs a lot less water than the usual big lawn sprayers and for my whole garden it takes as much water as two persons showering.
I like all kind of plants. You could say I am a plant nut. It's a diverse garden, where all kind of plants like natives, annuals, grasses, bulbs, roses and drought tolerant plants found a home.
Be invited to roam around in my virtual garden. Read the blogs written by various Redding gardeners, look at the plants lists, watch the photo's from Victoria Garden by month and other Redding gardens and find out where to get plants. If you have any question or want to make a comment you may use the form.
This website is not only about Victoria Garden. I hope it will become a website for Redding gardeners, by Redding gardeners.
Everybody is invited to contribute to this website, with articles, pictures or remarks. Just mail to: Barbara@kapsenbergdesign.com or use the form on this site to leave a commen or ask a questions. Together we can make much practical knowledge about gardening in the Redding area available for all local gardeners.
I would love to show 100 Redding gardens on this site. With your garden pictures (If you don't have them, I will come to your garden and take pictures) and with your story we can show Redding gardening in all its aspects. It doesn't matter what kind of garden you have. It can be a native garden, a large landscaped garden, a woodland area, a small city lot, or a vegetable garden. Every garden has something special! If you, or somebody you know, would like to participate, just mail me. May is the perfect month to take pictures. Let's give all gardeners in and around Redding (CA) inspiration to go out in their gardens and enjoy gardening.
Please keep in mind that this website is still under construction. Many pages still need to be filled. I work hard to get all the information needed. Several gardeners have promised to put their experiences on paper and just give them some time to organize their thoughts. If you are on dial-up internet and like to have a fast loading time, you can use the special "without picture" version. You still can see the pictures anytime you want.
On the 15th of Mai 2010, the Native Plant Society organized a native garden tour in and around Redding. 5 different gardens could be visited. Victoria Garden was one of them. Therefore most of the first blogs and plant info pages and photographed gardens on this site will show practical information about growing Californian natives, sustainable and water wise gardening in the Redding area.

If you want to visit Victoria garden, you are welcome, but please mail me and make an appointment.
Just don't be surprised that my garden always looks different. The garden changes completely over the seasons. Some little seedlings from spring grow into 6 feet tall plants in fall. Some plants seems to have little feet. One year they sprout out on one place and the next year (or even in the same season) they prefer a different spot. This makes gardening for me so fascinating.
Barbara Kapsenberg